It took longer than expected, but it's finally here: the new nehalist.io, featuring a new logo and a new (open source) design!
A new design: Haven
In addition of having a new logo it was time to get a new design too. I've given it the name Haven and it's open source (get it here). It includes many features such as
Responsive
Post search
Code highlighting
Image lightboxes
and many more...
My previous Ghost theme, Ghoststa, was made more than a year ago - this time I had a higher expectation for theme development of Ghost - but, to be honest, it's still a pretty disappointing experience. Rant time:
The API still doesn't support post search (ridiculous considering they call themselves "professional publishing platform")
no possibility of registering custom handlebar helpers
no theme options
"apps" are still in beta (meaning literally they may "scrap the whole lot and start again at any moment" - that's not what you want to hear when developing something)
Ghost 2.0 introcuded new features (before previous things are done, sigh) which can be considered unfinished right away (speaking of "developers will be soon be able to build their own cards" - When? In 3.0? What's the point of a major release when it's not done yet?).
I've honestly considered stepping back to WordPress (or trying out something like Jekyll or Gatsby) during the development of this theme because it obviously seems like the team behind Ghost has started to invest more time in new fancy stuff than in fixing existing issues. It kinda feels they're focusing on getting bigger, not better - and that's pretty disappointing.
Nevertheless, the theme is done and I'm pretty satisfied with it.
The new publication cover is a freebie by Rounded Hexagon.
A new logo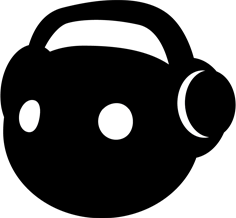 Thanks to Alex, a very talented designer, my blog now has a new and unique logo! If you've ever seen me at work you can see a quite the resemblance.
Monetization
As you might have already seen I've started to show ads on my blog. The reason for this is simple: my blog costs money. Let's get in detail here to give you an idea:
hosting: 5 euro per month
domain: ~3 euro per month
disable Disqus ads: 10$ per month
This means my blog costs approx. 18€ per month. It would be nice if this would be kinda self-financing - and showing ads is a good way to achieve this. We'll see how this works out, I'll keep you up to date. In case shown ads are too intrusive or something similar please just let me know.
What's next?
The next step is getting rid of Disqus on this blog for multiple reasons: privacy, content ownership, features (like markdown in comments) and reducing costs. To fulfill all of these requirements a self-hosted solution would come in handy. There are some self-hosted comment systems out there, but honestly I'm not really satisfied with them. And you probably know what that mean: I've always wanted to try out React, so here's my chance. You can follow development here.